Spring Single Set - 16 Colors
This item is currently sold out.
The Viviva Spring Set is a compact, portable watercolor set with 16 vibrant spring colors.
The Spring Set includes: 1 x Viviva Spring Single Set Colorsheets
Every Viviva Colorsheets Set comes with:
16 Incredibly Vibrant Spring Collection Colors
An inbuilt reusable Mixing Palette
Special Water Resistant sheets to separate different colors
Color-Coded sheets for easy use
Use discount code MULTIPLE for 10% OFF on purchase of 2 or more products.
Shipping Fees and Discounts
The Spring Single Set ships worldwide at $5
FREE Shipping to USA for orders above $25
FREE Shipping worldwide for orders above $75
16 Vibrant Colors
Customer Reviews
11/17/2020
Daisy M.
United Kingdom
I love these
Would 100% recommend, they are so pigmented and bright and they mix beautifully
11/13/2020
Mia S.
United States
11/13/2020
James G.
Ireland
Really Fantastic!
Very good, eco-friendly, and surprisingly easy to use! Only complaint is that a few of the colours are quite similar (the yellow/oranges and the reds). I would love to see another palette released in the future and would definitely invest again!
11/12/2020
Lidia O.
Spain
Awesome colours!
Wonderful and super easy to carry everywhere I go!
11/09/2020
Elizabeth A.
United States
WATERCOLOR At Its Finest!
I loved these vivid, highly saturated Colorsheets so much that I posted two tutorials on them last week on my YouTube channel and am offering a giveaway for the canvas I created with them (drawing is tonight!). This products is brilliant! Highly recommend and will absolutely be purchasing more for myself and for gifts - a professional, caring family-owned business I will always do business with! Thank you! https://www.youtube.com/watch?v=9U4c2C3Z_lo https://www.youtube.com/watch?v=9U4c2C3Z_lo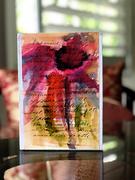 People also buy these Products