Viviva A5 Ivory Sketchbooks are perfect for inking, sketching, and light painting!
Viviva A5 Ivory Sketchbook is a Superior Quality Handmade sketchbook that comes comes with:
Dimensions - 5.8 x 8.3 inches
Lessebo Design Papers
Paper Thickness - 240 GSM
64 Pages (32 Leaves) - Cream in Color and Smooth in Texture
Premium Faux Leather Bound
Use discount code MULTIPLE for 10% OFF on purchase of 2 or more products.
Shipping Fees
The A5 Ivory Sketchbook ships worldwide at $5
FREE Shipping to USA for orders above $25
FREE Shipping worldwide for orders above $75
Customer Reviews
04/14/2021
Jennifer B.

United States
Beautiful Watercolor Sketchbook
Really Lovely and well made travel art journal. I got one in ivory and the quality was outstanding. The paper is of high quality and folds out flat, which is great for landscape paintings. It held the pigment very well and was very well constructed. Excited to travel with and fill the pages with the vibrancy of the Viviva Colors!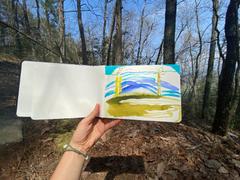 LD
04/06/2021
Lucie D.

Canada
64 page sketchbook
Really love the size, thickness of the paper and the slightly off white colour of the paper!
04/05/2021
Sandra B.

Canada
I love this paper!
The ivory paper (hot press) is one of the best papers I have ever used and it's perfect to scan because it has no texture. It didn't buckle and it takes ink beautifully because it's so smooth. I love that it's a creamy ivory because I don't like painting on white papers. I'll be buying more of these paints and papers!
03/30/2021
Emilie L.

United States
Great Book!
Great book! The pages do well to dry flatter than some books I've used. Plus it's the perfect size to take and travel with along with the Viviva Color sheets!
03/25/2021
Jessica S.

United States
Great watercolor
Fantastic watercolor sketchbook! The paper is really nice with a soft, creamy white look. I enjoyed painting in it - it was so easy because it lays very flat. And, the paper did not buckle, even though I used quite a bit of water.
People also buy these Products