The Viviva Gift Set includes:
2x Personalized Wooden Case
2x Viviva Colorsheets
2x Waterbrush
Personalize this Premium African Maple wooden case with the Name and a Personal Message. Gift it to someone you love, or to yourself! Viviva Gift Set is a perfect wholesome gift for an artist, hobbyist, or anyone who enjoys art and watercoloring.
Every Viviva Colorsheets Set comes with:
16 Incredibly Vibrant Colors
An inbuilt reusable Mixing Palette
Special Water Resistant sheets to separate different colors
Color-Coded sheets for easy use
Use discount code MULTIPLE for 10% OFF on purchasing 2 or more products.
Shipping Fees
16 Vibrant Colors
Customer Reviews
07/22/2021
Leslie K.

United States
Viviva colorsheets are fabulous!
I was very curious and interested to try your products When the package arrived I immediately opened the box and took out my water color brushes and added a dab of water and began to paint… To my surprise the colors were intense and brilliant like a fine water color or dye product surpassing my expectations… I showed them to an art studio class and everyone loved the product Thank you so much for creating this wonderful product I will bring it on my vacation next week Leslie
07/18/2021
Sara j.

United Arab Emirates
Watercolor booklet
I absolutely LOVE how pigmented and powerful the colors are - they're so strong that they feel as intense as dyes. The only thing I would change is the book concept (for me) . It's really lovely and presentable but because I speed draw live, rather than flipping through the book to find the right colors - I'd rather have it in a paint box/ watercolor cake kind of format where I can see ALL the colors at one glance like a color wheel. other than that - the colors themselves are super
03/30/2021
Kate H.

Canada
fun portable paints
Bright, vivid colours that are transparent and beautiful. I suggest swatching the colours for a guide as the colour sheets may look quite different before activating them with water. The staggered chart at the base helps to find the colours easily, especially if you swatch the colours edging the sheets. I am not sure about lightfastness but that may not be an issue with the playful projects you could do with these paints. Appear great for travel. Hopefully, they are the equivalent of half pans.
03/07/2021
Cathleen S.

United States
My favorite!
I ordered a Skrawlerbox that included the Viviva color sheets. They quickly became my go to favorite. I ordered a restock for myself along with the spring color palette and another set as a gift for a friend. The order (which had custom engraving) shipped in less than 24 hours! Couldn't be happier with the product or the service. Highly recommend.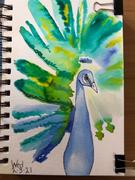 02/05/2021
Sherry B.

United States
Lovely Viviva Colorsheets
I bought two Viviva gift sets - one for me and one for a friend. We are both very pleased. Love the cover and the intensity of the color of the watercolor sheets is wonderful. Ordering was easy & I received them within a reasonable time.
People also buy these Products