This item is currently sold out.
There's something truly special about doing Inktober with your BFF. Introducing our best seller from last year - Inktober BFF Bundle!
The Inktober BFF Bundle has everything you & your friend need to do an amazing Inktober. 1 complete set of art supplies for each one of you!
Could it be more exciting!
Inclusions:
1 x Inktober Special Colorsheets - 16 Colors (with a sensory surprise!)
1 x Viviva Watercolor pans - 16 Colors
2 x Choice of Sketchbooks (includes Inktober prompt list)
2 x Waterbrush
2 x Zig Fineliners
Why choose us?
FREE Shipping worldwide
Premium quality products
Eco-friendly products (biodegradable!)
Doorstep delivery well before Inktober
Customer Reviews
10/07/2021
Marcee P.

Canada
Viviva - Colorsheets and sketchbooks
This is not my first review and likely not my last. I love this company for their products and all they stand for. I love the Colorsheets for their intensity, vivid beautiful colors and the amazing portability. Last years Inktober was the introduction of their cotton sketchbooks. The hand made paper came with some learning curves but delivered some amazing results with the Colorsheets - but was a bit harder on my ink pens. This years hot pressed smooth cotton paper works amazing with the ink pens but I'm finding it is not the best with the colorsheets. The colors are not 'sticking' or absorbing into the paper and are not able to leave the same intensity in the pigment deposit. Keep working at these books - they are beautiful and a treasure to look at later - but we still need to find a better blend or process so that your colors and papers work optimal together. Marcee - @myssmagic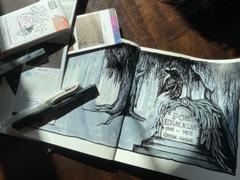 10/06/2021
Jill E.

Australia
Fabulous set
I love this special set, and is so easy to take on my caravan trips. The paint is highly pigmented and the journals are a perfect size for sketching. Finally the water brushes and ink pens make painting so easy. Thank you for this great set. I'm disappointed I didn't order the Inktober colour cards, hopefully they will be available next year. ♥️♥️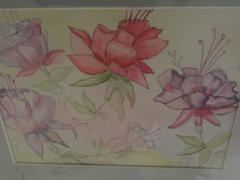 10/03/2021
Ilana H.

Israel
10/03/2021
Jocelyne T.

France
Fantastic colors
I started the first day OK inktober 2021 with some splendid greens of vivipares on the sketchbook inltober that I received some days ago. I feel vert happy of this acquisition. Let us enjoy inktober 2021 !
10/02/2021
Deren J.

United Kingdom
Fantastic Bundle
I love this bundle. It is the perfect size for travelling and was a great addition to my trip. I will be using the supplies for Inktober too as they are my new favourites to carry around.
People also buy these Products