This item is currently sold out.
Inktober Basics Bundle is a Complete Art Kit any Inktober fan/ Art lover would like to own. It has all you need for a lovely Inktober experience.
Inktober Autumn Colorsheets, a choice of Inktober Sketchbook, a marker & a waterbrush - what else do you need to make your Inktober complete!
Inclusions:
1 x Inktober Special Colorsheets (with a sensory surprise!)
1 x Choice of Sketchbook (with Inktober prompt list)
1 x Waterbrush
1 x Zig Black Marker (hard tip)
Why choose us?
Premium quality products
Eco-friendly products (biodegradable!)
Doorstep delivery well before Inktober
Shipping:
Ships at $5 worldwide
FREE Shipping to USA for orders above $25
FREE Shipping worldwide for orders above $75
Customer Reviews
10/15/2021
Lia H.

Netherlands
Products are good, but..
Allthough the sketchbook and colorsheets are good , I'm shore I would order again: It took almost 6 weeks untill I received my Inktober goodies. I was seriously worried that I lost my money!! Maybe you could have kept us up to date in the blog about why it took so long.
10/07/2021
Pamela T.

United States
Pumpkin spice makes everything nice!
I love the colors, I wasn't sure if I would like the color sheets and I do love them. I'm able to pick up small or larger loads of color. I especially love the color Fire!!! The sparkles, who can't love sparkles. The sketchbook is made well and the pages are smooth. The pen is dark and waterproof ink. I also received the postcards and love them too. I took the postcards, ink pen, brush and color sheets with me to jury duty. I was able to color the postcards sitting in an uncomfortable chair and enjoyed my 8 hour day of sitting around. Oh and when I opened the box the first think I smelled was pumpkin spice, it really set the tone of this is awesome.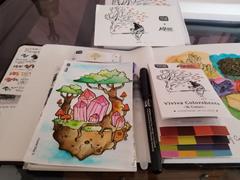 10/06/2021
Lise C.

Canada
Pigment
I was surprised how there was so much pigment in that thin colour. Love it. I am using it for Inktober'21. I will then save it for my travels…perfect for me Lise C
10/04/2021
Marta K.

United States
Truly awesome
The paper of the book is so smooth and you can go ham with the water and it doesn't bleed onto the next page
10/03/2021
gordon l.

United Kingdom
Amazing products and service
I have only found out about Viviva through Inktober which I only started doing last year. This year and last I have purchased limited edition Inktober sketch books to do the challenge and I have no complaints what so ever. The products purchased also come with a little thank you message inside which makes you feel appreciated straight away and it just feels like a very personal experience if I'm being honest. Also their watercolours are absolutely brilliant! They are so vibrant and easy to work with. I would also like to add how understanding Viviva are with you and your orders as this year some of my order had got mixed up in the mail but as soon as I contacted Viviva about this issue they were straight on top of it and I received my missing stuff very quickly after that. To sum things up , I highly recommend Viviva products and be rest assured that I will 100% be using them every year for Inktober and I will being keeping an eye out for any new water colouring products they release in the future. To finish this review I want to say a massive THANK YOU!! to Viviva and keep up the great work.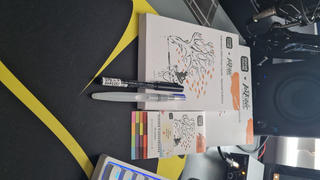 People also buy these Products