Choice of Inktober Ivory Sketchbook
This item is currently sold out.
The Inktober Ivory Sketchbook is made with Lessebo design Ivory papers imported all the way from Sweden. They are best recommended for inking, sketching & light painting. It includes 64 smooth textured, cream pages of 240 GSM thickness.
The Sketchbook is made with Premium faux leather bound & open flat ensuring a lovely sketching experience for you!
Inclusions:
1 x Choice of Inktober Ivory Sketchbook (with Inktober prompt list)
Why choose us?
Premium quality products
Eco-friendly products (biodegradable!)
Doorstep delivery well before Inktober
Shipping Fees
Ships worldwide at $5
FREE Shipping to USA for orders above $25
FREE Shipping worldwide for orders above $75
Customer Reviews
11/03/2021
Vicky S.

United Kingdom
Fantastic product
I love these sketchbooks! They take the paint so well, are so nice to use and the paper feels fab.Great stuff again guys!
11/02/2021
Clare

United Kingdom
Inktober Sketchbook
This was a great little sketchbook in the end. I was dubious to start with as the second page came loose so I was worried the whole thing would fall apart, but it was the only page that came loose. The quality of the paper was superb, I experienced no bleeding through to the next page and it just felt nice and substantial. I am proud of the finished product and it looks really smart. Would definitely buy again. Thank you viviva!!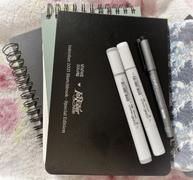 11/02/2021
Emily K.

United States
Wonderful for Inktober
It was very good to use for Inktober and highly recommend. I will be buying from them again.
People also buy these Products