This item is currently sold out.
There's something truly special about doing Inktober with your BFF. Introducing our best seller from last year - Inktober BFF Bundle!
The Inktober BFF Bundle has everything you & your friend need to do an amazing Inktober. 1 complete set of art supplies for each one of you!
Could it be more exciting!
Inclusions:
1 x Inktober Special Colorsheets - 16 Colors (with a sensory surprise!)
1 x Viviva Watercolor pans - 16 Colors
2 x Choice of Sketchbooks (includes Inktober prompt list)
2 x Waterbrush
2 x Zig Fineliners
Why choose us?
FREE Shipping worldwide
Premium quality products
Eco-friendly products (biodegradable!)
Doorstep delivery well before Inktober
Customer Reviews
Amazing
Leave alone that the products are amazing and this particular boundle is so cool, high quality and of great value. I had a great delay with shipping, because of the postal service and custom in my Country, and the customer care helped me making the whole experience less discouraging. Thank you to Kanchan from customer support. Highly recommended!
11/14/2021
Linda S.

United States
Wonderful
Love , love it the colors are brilliant just wonderful!
11/08/2021
Kathrina M.

Philippines
Email & tracking notifications a must on all orders.
It would be great of your company can send notifications with tracking numbers on orders once its been placed and shipped. I had to message your Instagram account a few times to follow up on my order asking for updates. I was just told that the item was shipped and should arrive shortly. And it did. But imagine if several customers were told that and their item never arrived due to the couriers' fault. You'd lose money and customers.
11/02/2021
Teresa P.

Canada
The best paints and the best gifts!!
I take these on the plane all the time. They are also great for older kids. I also give them as gifts to my friends + the matching postcards :)
10/07/2021
Marcee P.

Canada
Viviva - Colorsheets and sketchbooks
This is not my first review and likely not my last. I love this company for their products and all they stand for. I love the Colorsheets for their intensity, vivid beautiful colors and the amazing portability. Last years Inktober was the introduction of their cotton sketchbooks. The hand made paper came with some learning curves but delivered some amazing results with the Colorsheets - but was a bit harder on my ink pens. This years hot pressed smooth cotton paper works amazing with the ink pens but I'm finding it is not the best with the colorsheets. The colors are not 'sticking' or absorbing into the paper and are not able to leave the same intensity in the pigment deposit. Keep working at these books - they are beautiful and a treasure to look at later - but we still need to find a better blend or process so that your colors and papers work optimal together. Marcee - @myssmagic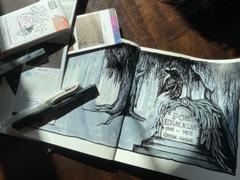 People also buy these Products